15+ Unbe-leaf-able Places to Visit in Fall in Ontario

As the days get shorter and the temperatures drop, a fresh crispness hangs in the air. Gone are the dog days of summer as we embrace everything fall has to offer. We're very lucky in Canada to have all four seasons, especially in Ontario where the vastness of the province allows for an extended season. With the lush green foliage transforming to gold and red, bundle up in your coziest sweater and grab a cup of pumpkin spice and check out the best places to visit in fall in Ontario!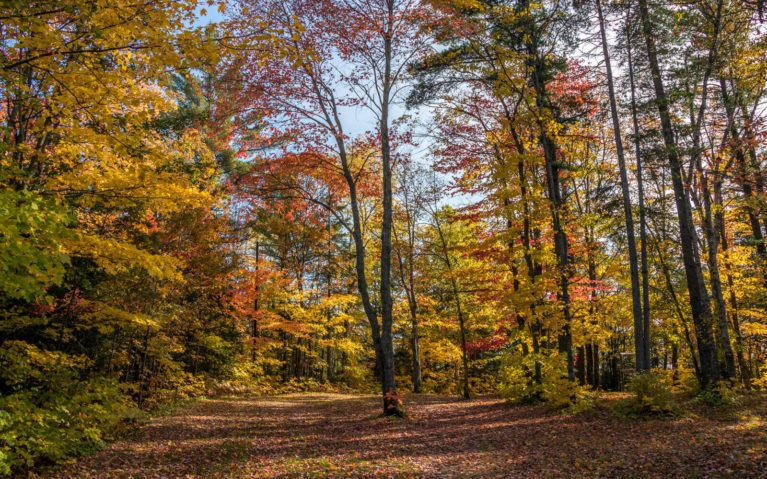 Best Places to Visit in Fall in Ontario
We're so lucky in Canada to have all four seasons and Ontario truly is one of the best provinces to enjoy autumn. Whether you're up north exploring some provincial parks or heading to South Eastern Ontario for an awesome road trip, you'll fall in love with these fall places to visit in Ontario.
Algonquin Provincial Park for Leaf Peeping
Let's be honest – this is the best thing about fall. The changing colours make Ontario's beautiful landscapes even more incredible! As a fall colour change enthusiast, I live for the vistas where golds, ambers and reds are scattered as far as the eye can see. Peak time for leaf viewing changes each year so be sure to check out Ontario Parks' Fall Colour Report. That way you can keep an eye for the best time for fall colours in Ontario! However the mecca of all fall colours has to be Algonquin Provincial Park. Ontario's first provincial park, it spans over 7,600 square kilometres of incredible views, gorgeous hiking trails, a plethora of wildlife and more.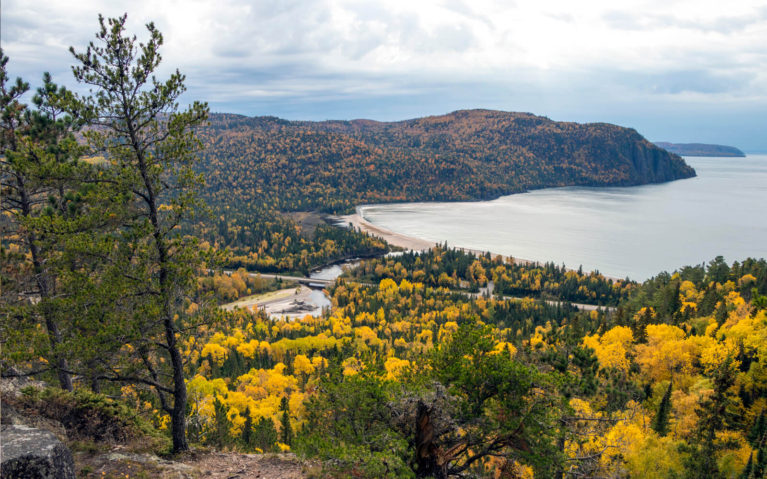 Lake Superior Provincial Park for the Larch Trees
Alongside the Agawa Canyon, Lake Superior Provincial Park has a number of fantastic hiking trails that are perfect for admiring the fall colours. One of the best has to be the Nokomis Trail, located across Highway 17 from Old Woman Bay. While it's a popular spot in the summer for beach goers, I love it in the fall for the brilliant views. While you'll see oranges and reds south of the park, up here is where the yellows of the larch trees really pop – and it truly is a sight to see!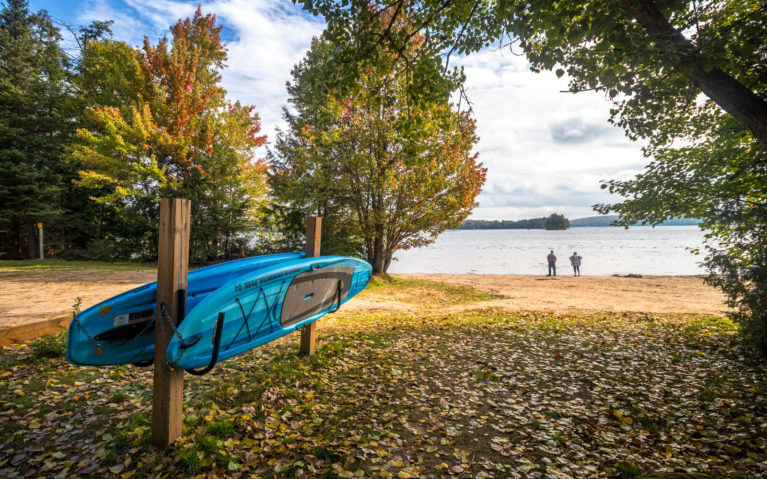 …and More of Ontario's Provincial Parks
With over 300 provincial parks in Ontario, there are so many options other than the ones listed above. There are a number of parks that have extended their fall camping season so you can get out and explore for even longer. Whether you're an avid hiker or more of a calm wanderer, you'll find a park that's perfect for you.
Here Are Some Parks Guides For Fall Trips in Ontario
Your Eagle-Eyed Guide to Mikisew Provincial Park
Rondeau Provincial Park: A Lesser Known Gem on Lake Erie
Sault Ste Marie for the Agawa Canyon
Get a true taste of Northern Ontario by hopping on the province's most iconic train ride. The Agawa Canyon Tour Train that departs from Sault Ste Marie takes you deep into the untouched landscapes which inspired the famous Group of Seven. It becomes clear very quickly why they were so enthralled with the area! You'll be blown away as you travel past beautiful lakes, across 100ft high trestles and into the Agawa Canyon. The views are spectacular all year round but they're seriously next level with the changing fall foliage! This is one train tour you'll never forget.
RELATED: For more details on what to expect on this Canadian signature experience, check out my full guide to the Agawa Canyon Tour Train.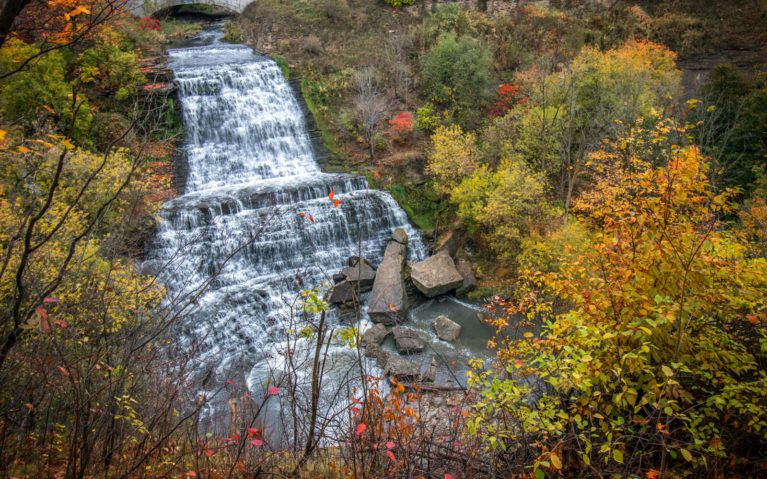 Hamilton to Chase Some Waterfalls
If you're like me and 100% disagree with TLC, then you'll love chasing waterfalls in the fall. While winter is still my favourite time of the year to enjoy them, you can't argue with the fact that autumn allows for some beautiful scenes. Naturally, I have to recommend Hamilton as the best choice for this – it's the waterfall capital of the world after all! You'll have to contend with some smaller waterfalls running dry, but the colours will more than make up for it. Though to be sure, visit shortly after a heavy rain if you want the best chance of seeing an autumn waterfall at its full potential! Don't miss my full guide to where to find the best waterfalls in Hamilton!
If you're looking to see these more of these flowing beauties…
Check Out This Guide to the Waterfalls in Grey County
Don't Miss These 10+ Niagara Waterfalls Across the Region
These Thunder Bay Waterfalls Will Call You to Northern Ontario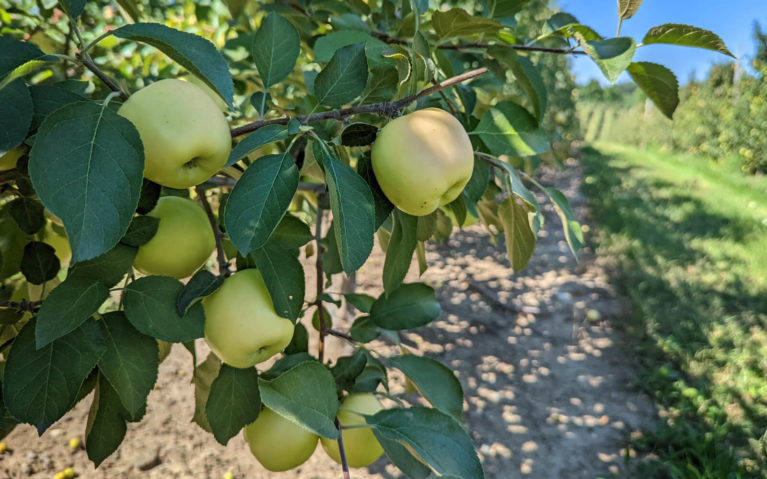 Lake Scugog to Pick Your Own Apples
When the sun is shining and the skies are blue, walking through an apple orchard picking the ripest, most juicy apples you can find is the epitome of fall. Luckily there are plenty of places to go pick your own apples! Though I have to say I'm impartial to Nature's Bounty Farm near Lake Scugog. Located near Port Perry, you'll find over 20 varieties of apples throughout the fall season. From iconic varieties like Cortlands to the lesser-known Silkens, you'll certainly head home with a bag or two. After all, an apple a day keeps the doctor away and that's what we want since there are so many things to do in fall in Ontario!
RELATED: There's more fun to be had in and around Port Perry! Check out my guide to Lake Scugog and you'll see what I mean.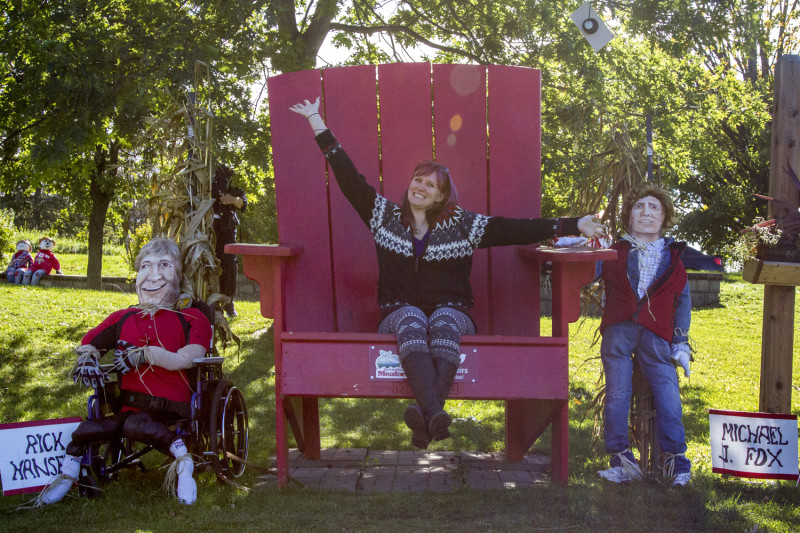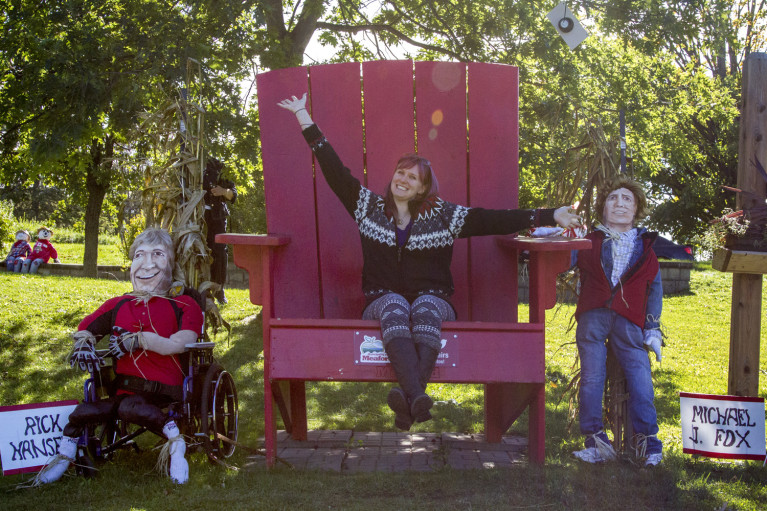 Meaford for the Scarecrow Invasion
Come fall, the unassuming town of Meaford becomes overrun by scarecrows! You'll find over 300 of these folks scattered throughout the downtown area as well as in Bognor, Anna and Leith. Celebrating 25 years, grab the whole family and head out to see how many you can spot. You never know where you might find them from lamp posts to lounging on benches, peeking out from behind cornstalks and even hiding in trees!
RELATED: While you're here, take a peek at some of the other fantastic fall activities in Grey County!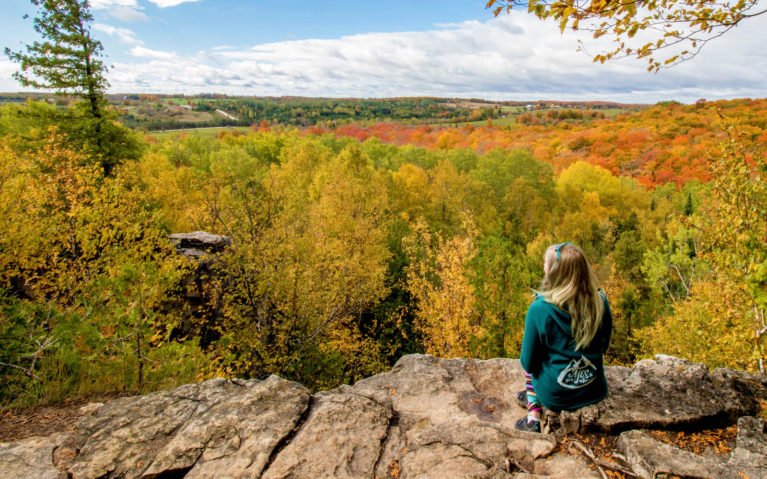 South Georgian Bay for Some Epic Lookouts
There is no shortage of amazing views across Ontario. However, if you're looking for a cluster of places to visit in fall in Ontario where you'll find a bunch of them, South Georgian Bay is where you want to go! If you're already in Meaford to check out the scarecrows then you're in the perfect spot to start hunting for views. Irish Mountain in town is a great spot with others like Old Baldy and Metcalfe Rock in the Duncan Escarpment Provincial Park just a short drive away. You can hit a number of spots including the iconic Nottawasaga Bluffs pictured above in one day, making it one of the best places to visit in Ontario in October when there's a good chance the fall colours will be at their peak!
RELATED: For all the details on which lookouts to check out, take a look at my guide to the best South Georgian Bay views.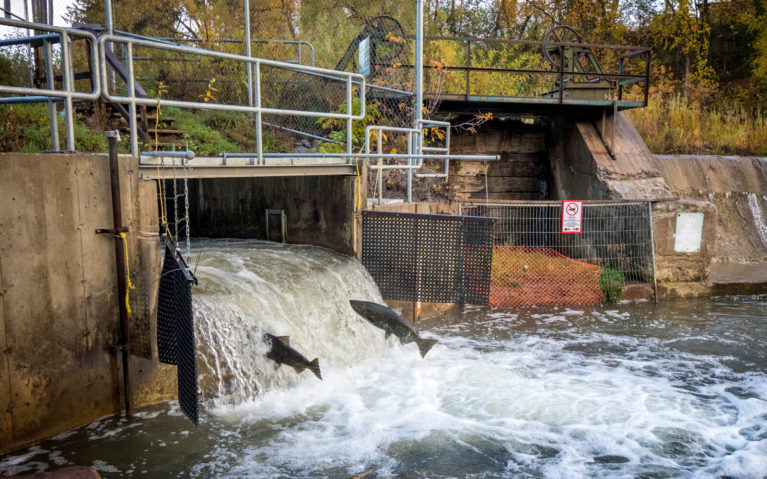 Bowmanville to Watch Spawning Salmon
With the fall comes the final act in a salmon's life as they prepare for the next generation to be born. You know fall is in full swing when the salmon are spawning. September through November is prime spawning season as Coho and Chinook salmon make their way north from the Great Lakes. You can catch this firsthand in Bowmanville as you watch them jump up the fish ladder just steps from the heart of town. It truly is a remarkable sight to see!
RELATED: There's plenty to do in the area so check out why you'll fall for Clarington and plan your visit!
Muskoka for the Cranberry Harvest
Cranberries can only be found in North America so head to Muskoka and see their harvesting first hand! Johnston's Cranberry Marsh does all things cranberry from wagon rides to sampling cranberry goodies to their famous cranberry plunge. Strap on some chest waders and make your way into the cranberry sea before you. Then prepare to be surrounded by this iconic fall fruit as you pose for some awesome fall photo ops! Afterwards, head over to the Cranberry Emporium to try some sweet treats. The harvest happens only once a year after all, you have to make the most of it!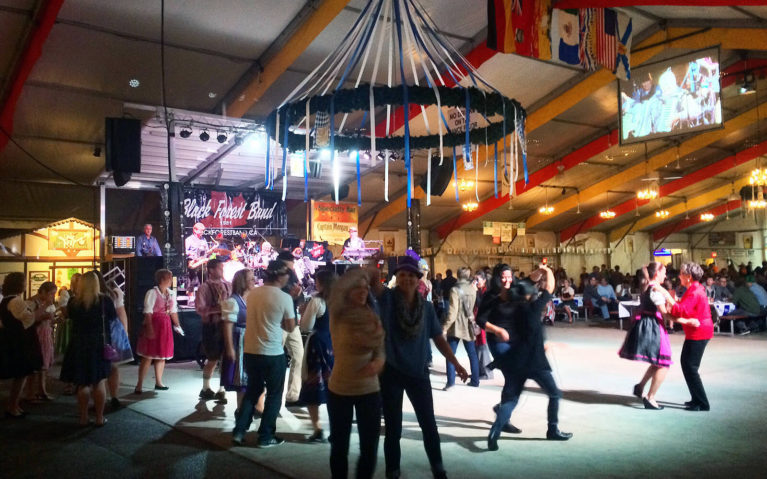 Kitchener-Waterloo to Indulge at Oktoberfest
It's not autumn in Waterloo Region until the steins are filled and the dirndls are on! As the largest Oktoberfest outside of Germany, people far and wide flock to the area for a taste of this iconic celebration. There are a number of festhalles across the region offering some true Oktoberfest fun. The classic choice is Concordia but newcomer Oktoberfest Haus at Lot42 is incredibly fun as well! Or if you'd like to get your Oktoberfest started early, don't miss Craftoberfest which is organized by many of the amazing craft breweries in Kitchener-Waterloo. No matter where you go, the beer will be delicious and plenty of fun will be had. This is definitely an event everyone from the area looks forward to every year!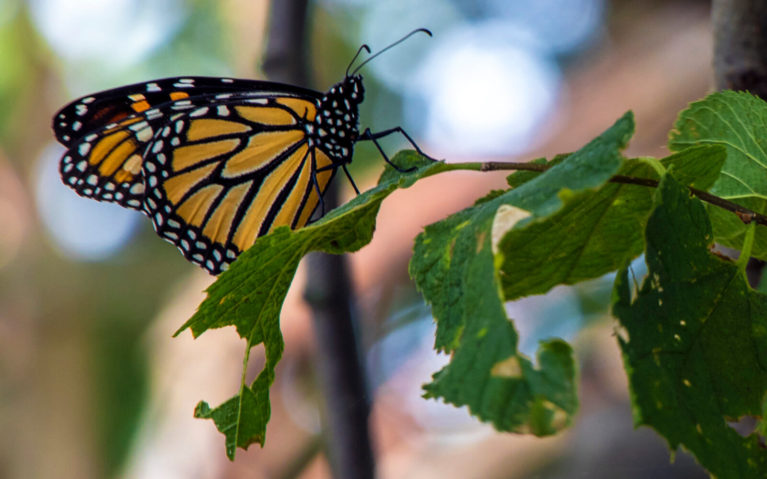 Point Pelee for the Monarch Migration
The cusp of winter means Monarch butterflies are well on their way to their final destination in Mexico. Their annual migration has these little insects travelling upwards of 4500km to escape the cold Canadian temperatures. Make your way just south of Windsor to Point Pelee National Park where you can see this in action. Hundreds of butterflies pass through this area each year, making it a wildlife photographer's paradise. Migration begins in September, however the best time to catch their travels is at the end of September and the beginning of October.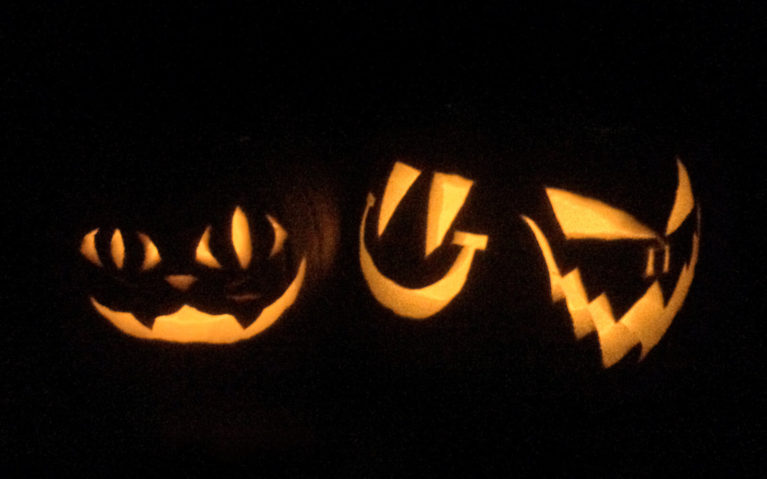 Milton for Jack-o-Lanterns
As a kid, I always enjoyed pumpkin carving with my parents. It was tradition to sit at the kitchen table and carve faces into the gourds which came to life at night. Plus it was a sure sign that Halloween was just around the corner… and a plethora of candy on the horizon. What kid doesn't love that?!
Although if you'd like to see some incredible sculptures or you'd rather leave the carving to someone else, you don't want to miss Pumpkins After Dark. Over 6000 hand-carved pumpkins depict beautifully intricate scenes that everyone young and old will enjoy. Head to Country Heriage Park for this one-of-a-kind walk-through experience!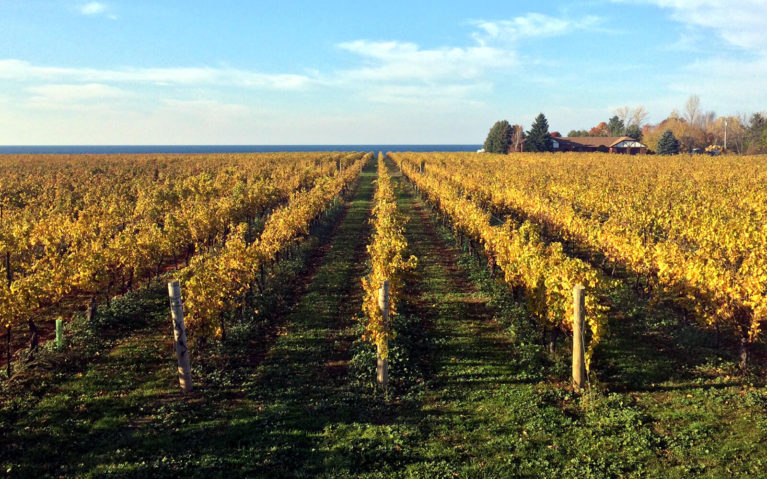 Niagara-on-the-Lake for a Wine Tour
While many flock to the vineyards in the summer months, they're even more incredible during the fall. You'll have less crowds and the beautiful autumn colours to enjoy as you sip on your favourite vintages. If you're wondering where to go, I'd say the Niagara Region is the best place for wine tasting in Ontario. November is the perfect month for this as Niagara's Taste the Season even is happening. Participating wineries offer pass holders delicious food and wine pairings – and the price is a steal! Whether or not you visit then, check out this list of incredible Niagara wineries to plan your visit!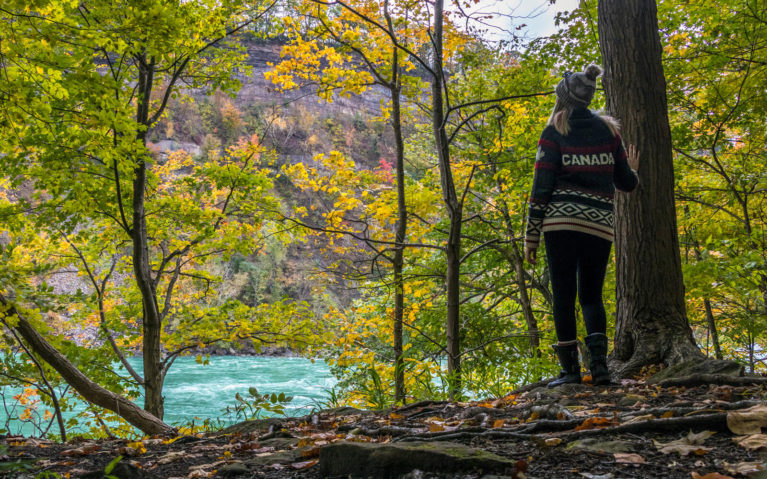 Niagara Falls for the Niagara Glen
There's a reason why the Niagara Glen is one of the top hiking trails in Niagara. Boasting 4 kilometres of hiking trails, hikers will enjoy wandering through one of Canada's last pristine expanses of Carolinian Forest. This spot is a pleasure to hike in the spring and summer months, however the fall is where it truly shines. You'll be blown away by the golden hues of the trees as they contrast against the turquoise water. Follow the River Trail and you'll see what I mean. It truly is magical!
RELATED: Check out my Niagara Glen hiking guide for everything you need to know about visiting this fantastic spot in Niagara Falls!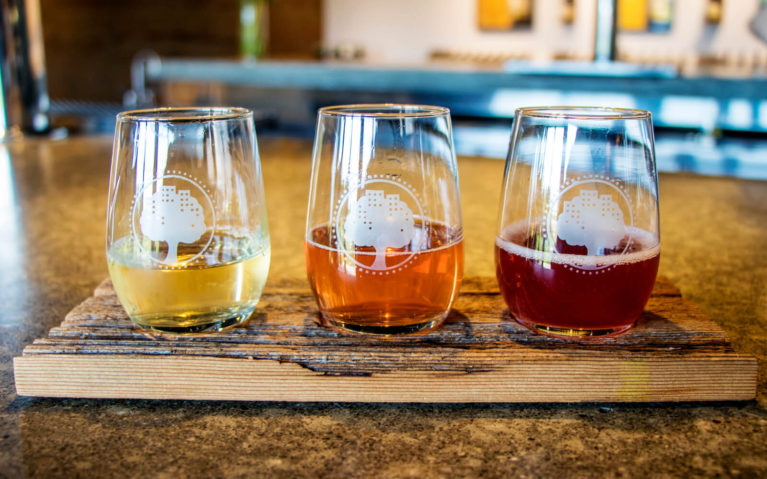 Sip on Apple Cider
If you prefer to enjoy your apples in liquid form, why not head to a local spot for a cider tasting! Whether you choose alcoholic or not, there are plenty of great places across the province to enjoy some! Ontario has really come into its own in terms of craft beverages. Many Ontario cideries are now adding some extra flair to really spice up these autumn flavours. Pumpkin spice apple cider? Or spiced apple cider that tastes like liquid apple pie? You can count me in! Check out these amazing Ontario craft cider establishments for a taste of autumn all year long.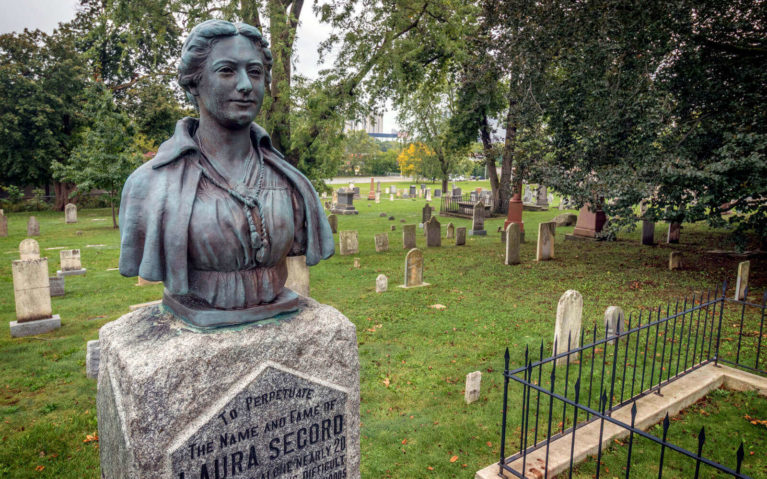 Hunt for Ghosts Across the Province
It probably won't come as a surprise to you that Ontario has a number of haunted destinations. With a history fraught with battles and war, there are a number of cities where the hairs on the back of your neck will stand on end. If you're a fan of the paranormal, some of the places to visit in fall in Southern Ontario include Kingston, Hamilton and Niagara-on-the-Lake. Hop on a ghost tour (especially as it gets closer to Halloween) and you just might be surprised at what you learn – and see!
To See A Ghostly Side of Ontario…
Check Out These Haunted Places in Niagara
Decide for Yourself if the Screaming Tunnel is Haunted or a Hoax
See a Darker Side of Hamilton at these Haunted Destinations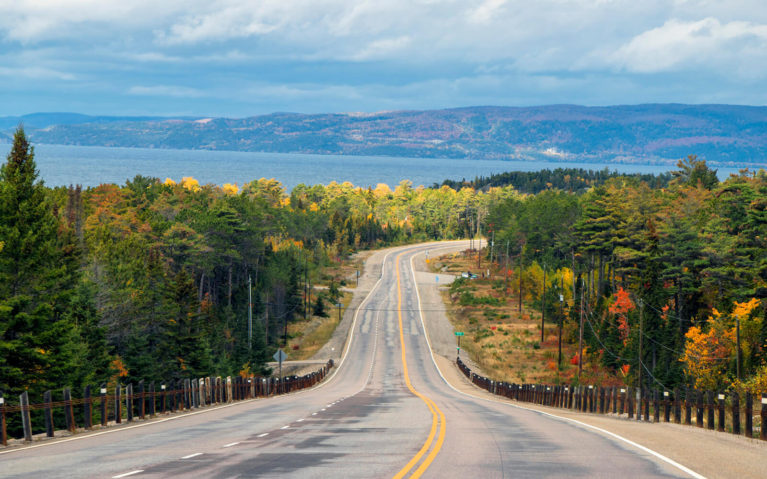 Take a Fall Road Trip
Chances are you'll have to travel a bit to enjoy some of these activities, so let's make it a road trip! Even the most boring of drives can be transformed into magical road trips during the fall season! I can say for certain you'll love getting a taste of Northern Ontario with the autumn colours in full force. Whether you head north to Sault Ste Marie, Manitoulin Island, Prince Edward County or out east towards Ottawa, you'll be amazed at the views – even just from the highway! Not sure where to go? I've got a great list of the best road trips in Ontario to help get you started.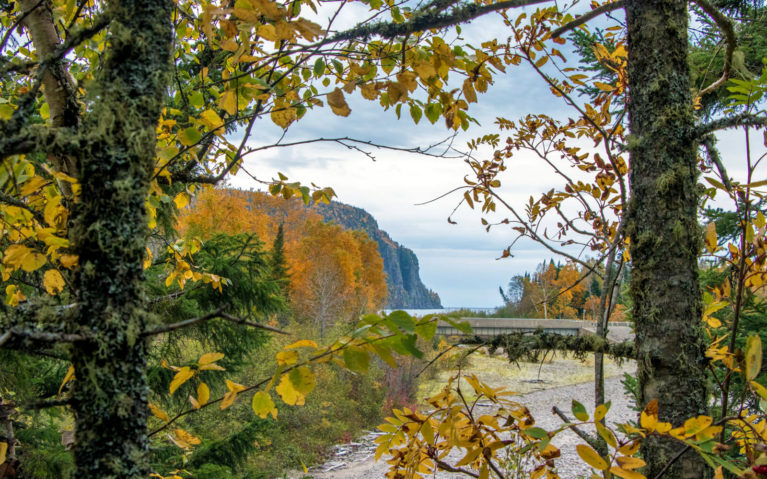 Things to Know for Experiencing Autumn in Ontario
Ready to check out these best places to visit in fall in Ontario? Here are some frequently asked questions and things to know when planning your fall trips in Ontario.
When is the First Day of Fall?
The first day of fall falls on the autumn equinox which can range from September 21-23, depending on the year.
What is the Best Time to See Fall Colours in Ontario?
Both Ontarians and visitors alike are guilty of not realizing just how vast the province is. To put it into perspective, to drive from Toronto to Sault Ste Marie is 7 hours. From Sault Ste Marie to Thunder Bay is another 8 hours and then it's another 6 hours to the Manitoba border. So as you can imagine, the colours up north in Kenora will turn earlier than those in Niagara meaning you can extend your fall season if you plan strategically!
What is the Weather Like in Ontario in Fall?
The weather can be a little hit and miss, however typically we're very lucky in that we have little rain and plenty of sunshine. Mama Nature can change her mind though so if you see a plethora of rain in the forecast, be prepared for some foliage loss which can affect peak colour times across the province. You'll certainly want to dress in layers to ensure you stay warm, dry and comfortable.
What Are the Best Things to Do in Fall in Ontario?
To recap, here are some of the best places to visit in Ontario in fall:
Algonquin Provincial Park to admire the beautiful fall foliage at its peak
Lake Superior Provincial Park to hit the trails with an autumn hike and admire the larch trees
Or explore one of Ontario's plethora of provincial parks
Sault Ste Marie for the iconic Agawa Canyon Tour Train
Hamilton to chase waterfalls in the world's waterfall capital
Lake Scugog area to pick your own apples and enjoy the fruits of your labour
Meaford for the scarecrow invasion
South Georgian Bay for some epic lookouts
Bowmanville to watch spawning salmon Do some pumpkin carving or admire the work of others at Pumpkins After Dark
Muskoka to wade up to your waist in cranberries during the annual harvest
Kitchener-Waterloo to break out your dirndl or lederhosen at Oktoberfest
Point Pelee to admire the Monarch butterflies as they make their way south
Milton for the incredible carvings at Pumpkins After Dark
Niagara-on-the-Lake for a fall wine tour
Niagara Falls for the incredible Niagara Glen hike
Sip on some delicious apple cider (alcoholic or otherwise!)
Hunt for ghosts and things that go bump in the night
Hop in your wheels with a beautiful fall road trip
Well, what are you waiting for? Go check out these places to visit in fall in Ontario! What activity is your favourite? Do you have any autumn plans? Have I missed any fall activities in Ontario you think should be on the list? Let me know in a comment below!
Don't Forget These Great Places to Visit in Fall in Ontario & Pin It for Later!