The Lindsay Chronicles: 2018 Travel Recap

Is it just me or did 2018 fly by? I swear just 2 weeks ago it was February and then BAM now it's off into 2019! Not going to lie, I'm about ready to say sayonara to 2018. It felt like a pretty stressful year for not just myself but the whole world. While some parts of 2018 may have been lacklustre to say the least, there were still some amazing highlights from it. Time to focus on the positives in this travel recap of the Lindsay Chronicles: 2018 edition.
January: Winter Wandering
Twenty-eighteen was off to a quiet start with mostly local wanderings. We had a brutal cold snap which meant the need for a ridiculous amount of layers, but also that our beautiful waterfalls had completely frozen over. If you haven't realized yet, waterfalls are my jam and winter is my favourite time to view them. I mean, just look at Tiffany Falls here in Hamilton. Isn't she MAJESTIC?!
View this post on Instagram
While I mainly spent the month enjoying the beauty of winter and checking a few more waterfalls off my list like Borer's Falls in Dundas, the highlight was a girls getaway with one of my long-time besties, Ali. In 2017 she was in a terrible accident which she truly was lucky to survive. I almost lost her and honestly couldn't believe the progress she had made with rehabilitation and getting back on her feet. If that were me, I'd still be bedridden to this day. To celebrate, we pampered ourselves (and drank a little too much wine) at Hockley Valley Resort and Spa. We had so much fun that we decided we needed another girls trip in February.
January Posts:
Hiking Hamilton's Borer's Falls
Why Ontario's Rockwood Conservation Area Will Surprise You
February: New Friends & Adventures
February was a great month as it was the month I met my gal pal Olivia over at My Wandering Voyage. I can't believe it was only this year that we met as it feels like I've known her for ages. We have to give a shoutout to the Female Travel Bloggers Facebook group as if it wasn't for them, we might never have met!
Our first meeting was over in Guelph as this adorable cat cafe which actually claims to be the very first in Ontario! It was such a blast not only getting to know each other but also meeting the furry felines (which have all been adopted since). I had never been to a cat cafe before this and it was definitely a great experience!
Shortly afterwards, Ali and I made our way to Niagara Falls for a girls night away. We took advantage of an awesome Groupon deal where we wined and dined ourselves because sometimes you just have to treat yourself! Growing up in the area, I never used to stay over much but now it's so much fun to go back and experience the area like a tourist! It's what prompted me to share
my insider tips for visiting
Niagara Falls which has helped a number of people plan their adventures to the area. I love being able to share my knowledge to help others as they explore the world!
View this post on Instagram
February Posts:
My Kitty Cafe – A Purr-fectly Good Time at Guelph's Cat Cafe
Insider Tips for Visiting Niagara Falls
March: Toronto Musings
With yet another weird winter for the books, March was all over the place in regards to temperature. It meant I STILL didn't get to break out my snowshoes before the snow cleared but lead to more exploration in Ontario's largest city – Toronto. Fun fact: I lived in Toronto for just over a year! While I have no interest in moving back there, exploring 'the big smoke' is always fun. Another fun fact: I studied fine arts in university so when Lauren suggested we check out the Winter Stations in the Beaches area of Toronto, I just had to say yes!
As the weather warmed up and spring was upon us, I did some more exploring and gained insight into a few local spots. If you don't know by now, local gems are what I live for when I travel. It was a blast to enjoy some lesser-known locations in a city I've been to more times than I can count. I highly suggest ditching the CN Tower and other tourist hot-spots for
these destinations in the 6ix
!
View this post on Instagram
March Posts:
Winter Stations Toronto – Outdoor Art You Gotta See!
Must-See Local Spots in Toronto
Mill 180 Park: The World's First Indoor Hydroponic Park
April: Passing the 60th Parallel
While the first quarter of 2018 may have been fairly quiet, I made up for it in April. Thanks to a sweet flight deal courtesy of Black Friday sales in 2017, I would be embarking on my first adventure to Canada's territories.
With a stopover in Calgary each way, I made my way to Yellowknife – the capital of the Northwest Territories. I stayed in an amazing Airbnb in the heart of the city which meant exploring wasn't only easy but I left with new northern friends! From frolicking on ice roads as I toured the town to a winter adventure to Cameron Falls which one of the best tour guides I could ask for and incredible eats in between, I fell in love with Yellowknife. Before I knew it though, I was hitting the open road and making my way south.
While it made for a long day, I booked it down to
Fort Smith in the heart of Wood Buffalo National Park
. It may have been a whirlwind trip, but I'm so happy I made time to visit (against my mother's wishes). I was greeted with open arms, got to peer through a telescope to see the beautiful night sky, learn about the incredible Indigenous Cultures of the north, and more! Within 24 hours of arriving, I was making my way back west.
Next on the docket was Hay River, the gateway to the north. By absolute chance, I had the pleasure of having the town's Mayor at the time, Brad, as my seatmate. He had so much to share about his town and told me to ring him up as I arrived. Brad gave me such a warm northern welcome with a tour of the town and many of its highlights. As if the hospitality couldn't get any better, a Hay River local named April offered to take me down to Alexandra Falls – on her mother's birthday no less! Not only that but she gifted me some of the most amazing hand warmers I've ever had the pleasure of touching and they're still one of my most cherished gifts to this day.
View this post on Instagram
In case you're wondering why I decided to clock almost 2000km on my rental car, during my research I discovered the Northwest Territories had a waterfall route. As a self-certified waterfall junkie, I knew I had to complete this no matter what time of year it was! While many thought I was insane for tackling it, I'm happy to say I fully completed it in the winter time! I haven't posted about it yet but know it's coming soon so that more crazy waterfall junkies like myself can see the beauty of NWT's waterfalls in the winter.
Once back in Yellowknife, I only had a few days to go before it was time to return to Ontario. Travelling is always amazing but there are a few places I can say that almost had me in tears when I left – the Northwest Territories was one of them. I still can't believe how many amazing people I met during my short time here, and already can't wait to return so I can see them all. Maybe this time I'll head up during the warmer months?
April Posts:
See Why You Gotta Visit the Northwest Territories
Get a Sense of Community with a YKOnline Yellowknife Tour
Truly Experience Cameron Falls with Strong Interpretations
May: New Beginnings
While rumblings happened in April, it wasn't until May that Lauren and I unveiled Inspire to Wander, our online travel community! We had been wanting to work on a project together for a long time, and this was our brainchild. Neither of us are full-time travellers and while we travel as much as we can, we know that not everyone has that same luxury. This is a group that no matter where you are in the world, no matter how far you travel whether that's to the next country over or the next town over, we wanted people to share their adventures, stories and experiences. If you haven't joined our Facebook group yet, be sure to do so and join us on Tuesdays at 9:00pm ET on Twitter for the #InspireToWander travel chat!
UPDATE:Unfortunately times have changed and Inspire to Wander is no more. Despite this, I still hang out on Twitter so feel free to hit me up anytime!
I also began May in Ontario's neighbouring province of Québec where I was accepted onto the Saguenay Lac-Saint-Jean press trip along with 5 fellow travel bloggers. For three days we got a taste of how much the area has to offer. From admiring architecture (and exploring a ghost town!) to unleashing our inner child to making our own cheese, there seriously is something for everyone. We even caught a glimpse of one of the longest fjords in the world! Not convinced?
I've got all the details for you
.
After that whirlwind adventure, it was time to hunker down and learn at the Women in Travel Summit. Hosted by Québec City this year, approximately 500 ladies came together to share their knowledge and experiences in the travel industry. Ever since I went to my first WITS in 2016, it's always something I've looked forward to year after year. It really made an impact on my life and has allowed me to learn so much about the travel industry as well as myself and for that, it has a special place in my heart. Plus I've met so many incredible ladies that I never would have otherwise!
After just a few days back in Ontario, it was time for my Mom and I's annual Mother-Daughter trip. For the past few years, we had kept to the Grey County area as we chased waterfalls, hunted for lighthouses and explored along the shores of Georgian Bay. With the freedom of remote work, we decided to go big and head further north to Sault Ste Marie. I was so excited to show my mom the area I fell in love with just a few months before that when I made the trek up at the end of August 2017. While we still chased waterfalls and indulged in great eats, we also explored a few museums and said hello to some of the biggest geese we've ever seen. We loved it so much we even extended our trip by a day because we didn't want to leave! Sault Ste Marie really has so much to offer and as one of my favourite destinations in Ontario, it warms me to my core that I was able to share this northern beauty with my Mom.
View this post on Instagram
To round out the month, I jumped head first into my role as the new Wanderful Toronto chapter leader with my first meet-up! If you don't know what Wanderful is, let me quote their website: Wanderful is an international community of women and non-binary people of all ages and backgrounds who help one another travel the world. While they may be the brains behind the Women in Travel Summit I mentioned earlier, they're so much more as over 40,000 women's lives have been touched by this community! I'm honoured to have the opportunity to lead monthly meet-ups in Toronto and had a blast as we hopped on a food tour of Toronto's Roncesvalles neighbourhood. Would you like to attend a meet-up? Be sure to join our Facebook group for future event details!
May Posts:
Saguenay Lac-Saint-Jean – A Destination for Everyone
June: Uncharted Territory
Despite having a month between my adventures, it still wasn't enough time to catch up and before I knew it I was off to Turkey! A friend of mine from university got married in the country's largest city, Istanbul. As I had never been, I didn't plan much other than a few highlights I wanted to check out and left the rest to chance. Istanbul is such a large city and it's seriously impossible to see everything in just one short trip. While my visit was great overall, it taught me a few things about myself and, like travel often is, it was a learning experience.
After spending a few days in Istanbul, it was off to Cappadocia to cross an epic adventure off my bucket list – a hot air balloon ride in Cappadocia! While I only had one true full day here, I'm so glad I made the trip over. From unreal landscapes to
adorable feline friends
to incredible history, I had a blast exploring. It's somewhere I'd definitely return to one day!
July: Going Solo
For the first time in a long time, I wasn't celebrating Canada Day in my beautiful home country. While this felt super weird, I was a-okay laying by the pool as Robin and I landed in Pamukkale. Another one of my must-visit destinations, I just knew I had to see their incredible travertines! What was probably the most relaxing part of our time in Turkey then turned into the biggest nightmare when our plane back to Istanbul was cancelled. Actually, cancelled is inaccurate as that means there was an intent for it to take off. It didn't even arrive to begin with. With Robin and I's next leg from Istanbul to Germany scheduled for the very next day, you could imagine our panic. An hour-long flight turned into a 9-hour fiasco, meaning we were very happy to arrive in what I'd consider to be our second home – Germany.
View this post on Instagram
As you can imagine, we took some time to relax and catch up on sleep from the go-go-go that was Turkey. We made our way to Weifenbach which became our home base for a few days while we attempted to plan the last leg of our trip before Robin left to return home. While I would have preferred to see more of the country, we both needed the extra rest so we visited a new town, Winnigen before returning to my favourite place in Germany – Rüdesheim – to round out our adventure together.
I still need to write about Winningen as I focused on enjoying my time exploring this adorable little town. I don't think you can find a more picturesque wine town! From vines that are hundreds of years old adoring buildings and streets to incredible views of the Mosel river, we just couldn't get enough. The icing on the cake (or should I say cork in the bottle) – we found
an incredible Airbnb
that was actually considered a "wine castle" back in the day! As for what made it a wine castle, I have no idea but not everyone can say they stayed in one!
View this post on Instagram
Too quickly we said goodbye to Winningen and made our way to familiar territory – Rüdesheim am Rhein. What is truly my happy place, we visited our friend Peter at Weingut Prasser and spent our evenings sipping on his incredible Rieslings while catching up on life. By day, we explored above the city and even made our way to Assmanshausen, a section of Rüdesheim I didn't even know existed until this trip thanks to the Ring Ticket tour!
Time flew and then we were back in Frankfurt as Robin awaited his departure back to work life.
Wait… just Robin?
Yep, since I was in Europe already, I figured why not push my comfort zone with some solo European travel! I've travelled to a number of places in Canada and the USA along, but never in Europe – until now! Though with only one night to figure out the gameplan, I got comfy in my hotel room at the Frankfurt Airport and got to work. The next morning I checked out, ready to take Europe by storm but not before asking my followers for some input!
As you can see, another new country (along with a few new cities) was in the books for 2018! My solo adventures took me to Nuremberg, Prague in the Czech Republic, Dresden and Berlin before returning to Frankfurt. While it was a little stressful for my first European solo adventure, I quickly gained my bearings as
this isn't my first solo rodeo
! It was a whirlwind two-week adventure and before I knew it, I was on the plane home. I haven't written about any of these adventures yet, but that will come in 2019 so stay tuned!
July Posts:
Things To Know Before Visiting Turkey For the First Time
Must Try Turkish Food Your Tastebuds Will Thank You For
August: Recuperating
With the previous four months being full of non-stop adventure, something had to give and I found myself a little worn out by the time August rolled around. I used the time to catch up on some much-needed sleep as well as some blog work. That doesn't mean I was just sitting at home though! I made my way to Toronto for yet another amazing Wanderful Toronto meet-up before I was banished to the couch with chicken soup and plenty of Netflix. Luckily I was right as rain by the time I needed to hit the road to revisit one of my favourite Ontario destinations, Sault Ste Marie!
August Posts:
It's Not Just Istanbul – Say Hello to the Cats of Turkey
Istanbul in One Day – The Essential Guide to Turkey's Largest City
Rüdesheim Ring Ticket Tour – A Must-Do When Exploring the Rhine
Agawa Canyon Tour Train – A True Northern Ontario Excursion
September: Month of Learning
9 hours of driving later and I found myself on the shores of Lake Superior in beautiful Sault Ste Marie. While my previous visits had a focus on outdoor adventure and exploration, this one was a bit different – and 100% outside my comfort zone.
Over the course of this week, I had the honour to experience the incredible power and beauty of this area's Indigenous Culture. The Labour Day weekend marks the annual Batchewana First Nation Pow Wow and I was invited up to experience it first hand. This was my first time attending a Pow Wow and while I knew there would be plenty of experiences, I didn't realize how large of an impression these experiences would have on me. To say it was all fun would be a lie. Don't get me wrong, I had an incredible time that was full of new friendships, love and laughter, but it was an emotionally and physically tiring weekend. Would I do it all over again? Hell yes I would. I'm forever in debt to my friend Lindsey in the Soo as well as Chief Sayers and the Batchewana First Nation for everything they taught me over the course of that weekend. From welcoming me with open arms to taking the time to teach me about Ojibway culture to encouraging me to jump in with both feet, I'm still reflecting and learning from the experiences and teachings I gained.
One week later I was back on the road heading southeast to the Finger Lakes region of New York state. With Lauren in tow, I made it to my first TBEX Conference! While I was unsure of what awaited me, I was surrounded by a number of friends as I learned more about blogging, how to further my baby you're reading now (thank you for that!) as well as explore the area. From my first time horseback riding to waterfall chasing to enjoying the company of friends old and new, it was an amazing week in New York state!
September Posts:
What's a Pow Wow, First Time Tips & Why White People Should Go
20 Photos to Inspire a Watkins Glen State Park Hiking Adventure
October: Old & New
With the coming of fall, it also meant I was back on the hook for my 30 day walking challenge! What better time to do it than autumn when the colours are in full force? While the weather was lacklustre to say the least, it didn't stop me from tackling it – sometimes with friends in tow!
October started with a visit from my pals Gemma and JR at OffTrack Travel as they spent a few nights with Robin and I on their way back west to British Columbia. We met up at the newly-opened Cheltenham Badlands and got our hike on before coming back to Kitchener for some good eats and way too much Mario Kart (wait, is there such a thing?). It was a blast being able to spend some quality time with them before they were on the road again!
Mid-way through the month I found myself back in
Pittsburgh, Pennsylvania
as I was asked by Visit Pittsburgh to speak about the power of influencer marketing. It was an honour and absolute pleasure to share about my experiences both as an influencer myself and as a social media marketer. Social media truly is a powerful tool and it's important to talk about how it can be used in the realm of travel. It also gave me the opportunity to revisit the steel city and hit a few places I didn't get the chance to before including a museum or two,
some breweries
and more! If you've never been, Pittsburgh really is a fantastic city and I highly suggest planning a visit.
I rounded out the month with a weekend to cottage country with Robin to celebrate his birthday. While I took some time to relax, he was out playing in the water with some scuba Jack-o-lantern carving. Yep, you read that correctly. Maybe one of these days I'll get him to write about it on here… or maybe I'll have to experience it myself!
October Posts:
Onaping Falls Trail – A Must-Do Sudbury Day Trip
Belfountain Conservation Area & the Cheltenham Badlands
Breweries in Pittsburgh You Gotta Have a Pint At
Niagara Falls Hiking That's Better Than Hamilton's Dundas Peak
Bowmanville POW Camp – One of the Creepiest Places in Ontario
November: Hunkering Down
As the days get shorter, my travels this year kept me close to home here in Kitchener. I decided to hit a few trails and explore more of what Waterloo Region has to offer. There really is a lot to do in my own backyard, I just hadn't taken the time to experience it! This will be a theme for a long time to come as I try to focus on experiencing the highlights of the area around me. Plus it's a great excuse to indulge in a coffee shop or two, don't you think?
November also had me thinking about the future a bit. If you didn't know,
I work remotely as a freelancer
for graphic design, social media strategy and content creation, along with a few other hats. I've had my eyes out for some more work and found myself with a few jobs which kept me quite busy throughout the month! I absolutely love using my knowledge to help others grow their business (it's also one of the reasons I love travel blogging!) and this month reminded me of that as I landed a new client.
November Posts:
Must-Do Kitchener Trails for Locals & Visitors Alike
Hotels with Cats That Will Tickle Every Feline Lover's Fancy
Gift Ideas for Nature Lovers They're GuaranTREEd to Love
Coffee Shops in Kitchener That'll Perk You Right Up
Ontario Christmas Markets Yule Absolutely Adore
December: What a Whirlwind
Ah, the final month of 2018. Honestly, 9 times out of 10 December shapes up to be the most hectic month of every year. With my birthday on the 5th, my Dad's on the 16th, Christmas on the 25th and then finally the closing of the year – I barely have time to breathe. That's not to say that December wasn't a blast!
Despite usually getting away for my birthday, this year it just wasn't in the cards. However, travel always plays a part in my life as I booked a trip for January. Happy birthday to me! Where are you headed, Lindsay?! More on that in a moment.
A few days later it was time to get in the Christmas spirit with Kitchener's Christkindl Market! A holiday tradition since I first went 3 years ago, there's nothing that gets me in the festive mood more than a Christmas market. Luckily, Ontario has quite a few of them! I visited not once but twice and made my way to Toronto's Christmas market later in the month!
View this post on Instagram
A few days before Christmas I had the pleasure of meeting a newfound friend and now idol, Ashlyn from The Lost Girl's Guide to the World. While we had chatted online, this was our first time meeting in person and boy was it magical! I was so happy she found time to hang out as I took her around to a few of Hamilton's waterfalls (of course, what else would I show an out-of-province visitor?!) during her first visit to Ontario. We chatted about travel (duh), ate delicious food (obvi) and bonded over our love for winter, the outdoors and Brooklyn Nine-Nine. Now that she's made it to Ontario, it's my turn to visit in Saskatchewan! Maybe that'll happen in 2019?!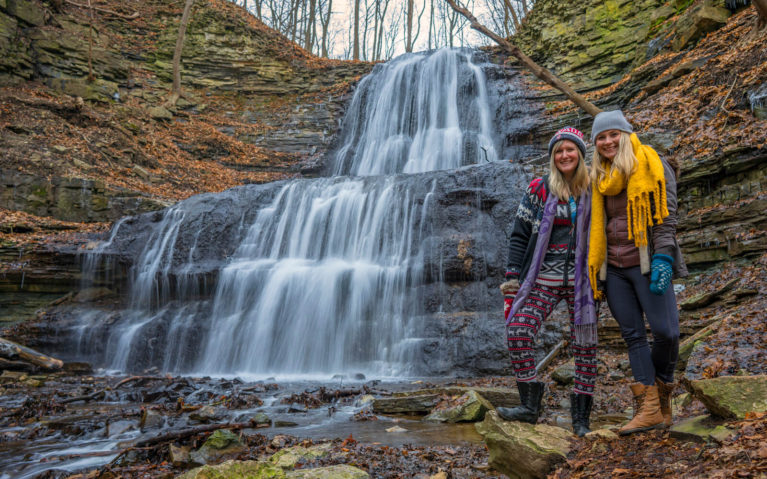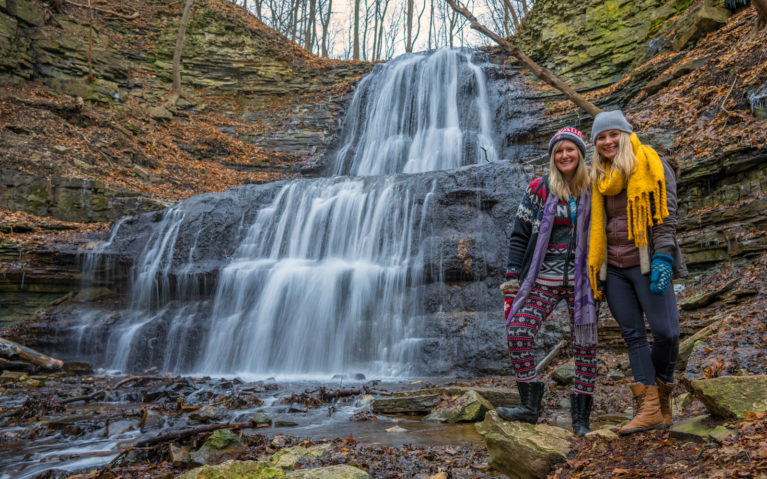 Then it was Christmas time. While I'm not religious at all, Christmas for me is always spent in St Catharines with my parents. As an only child, not being at home in my PJs with them on Christmas Day just sounds so foreign to me. It's a no-brainer to spend this time of year with two of my biggest fans and two of the largest influences in my life. They're the ones that always support me and my shenanigans, no matter where they take me. Even though I've given them probably more grey hairs than they can count, I'm so lucky to be able to call them Mom and Dad. Our days were filled with food, way too many late nights and plenty of laughter. I can't think of a better way to spend Christmas!
| | |
| --- | --- |
| | |
With just two days left in 2018, I was off to Pearson International to pick up Robin after 2.5 weeks in The Philippines. While he had a solid tan and longer hair (it grows SO fast), his big smile hadn't changed a bit as I picked him up from the international terminal. A quick drive to Kitchener and we rang in 2018 with just the two of us – and him almost sleeping through it. Good ol' jetlag!
And with that, another year bites the dust!
December Posts:
Christmas Getaways in Ontario That'll Leave You Feelin' Pine
TL;DR – Too Long; Didn't Read This Travel Recap?
Skimmed through all of the above or just skipped to here? Don't worry, I get it. I am a rambler after all. Okay here's 2018 in a very summarized nutshell:
Lots of local exploration with a side of waterfall chasing
Travelled the furthest north I ever have, crossing the 60th Parallel
Crossed 2 new countries off my list, bringing my total to 29!
Made plenty of new friends
Travelled solo in Europe for the first time
Went to my first Pow Wow and learned about Indigenous Cultures in Canada
Spoke on my first ever panel about my experience in social media
Started to grow my freelancing gig
If you know of anyone looking for help in regards to social media management, content creation for social media or web, graphic design, illustration (maps included!), photography or more, please let them know as I'm always looking to lend my skills to help others. You can view my online portfolio here.
Goals and Mindset for the New Year
So I'm not making any resolutions for 2019 as I have a terrible habit of forgetting about them by the time January 3rd rolls around. Instead, I'm focusing on positive mindsets and routines. What do I mean by that? Well, let me tell you!
Say Yes More
Believe it or not, I do get nervous when it comes to new experiences. As a result, I often say no or pass up opportunities that push me outside my comfort zone, especially when it comes to people. I really don't like people. Okay that isn't right, I like certain people but overall I sometimes have a hard time getting to know people. Small talk is the bain of my existence. Despite the butterflies I get in the pit of my stomach, in 2019 I want to power through and take chances. I'm sure I'll make mistakes but if I don't put myself out there more, I won't learn! So if you see me at an event, come help me feel less awkward, kay?
By saying yes more, I want to take more random adventures. I want my days to be filled with some uncertainty and love it. I want to make time so that I can say yes to those random opportunities as they pop up. Who knows where the road will take me, but I can't wait to find out!
Don't Be Afraid to Say No
At the same time, I need to step up and not be afraid to turn things down. In 2018 I occasionally found myself stretched too thin, and I hate that feeling. Instead of just saying yes to everything, I want to be deliberate in what I say yes to and ensure it's worth my time. I started doing this in 2018 and so far so good, so I want to keep that up in 2018!
Work on Time Management
This will be my biggest challenge – and eventually asset – when it comes to the two goals above. 2018 taught me that I'm terrible at time management. While I got my shit done, it often was because of short nights or messed up sleep schedules, leading me to run on fumes. I was working hard, but not smart. Changing that is one of my biggest goals for 2019!
Make Time to Unplug and Decompress Offline
All of the above will then lead to this: finding time for me. While I love the work that I do, the adventures I embark on and the things I learn, sometimes you just need to unplug so you can recharge. It wasn't until December that I really realized how much disengaging from the online world can really help re-energize you, so by working efficiently and having a solid game plan, I'm planning to make more time for my offline hobbies! Picture of me looking like a crazy person while channeling my inner Grandma as I measure the hat I'm knitting. If you don't laugh, you're insane.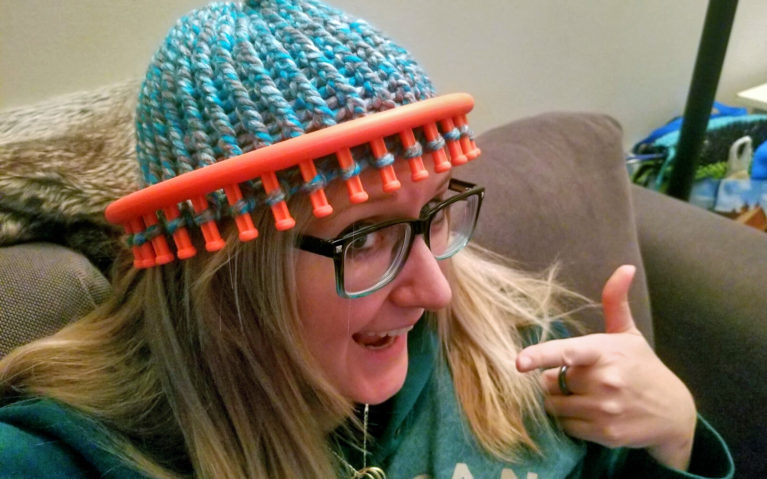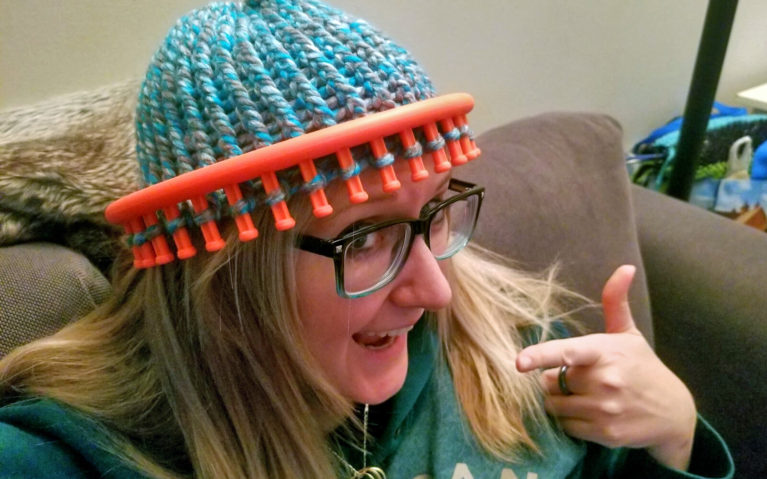 What's in Store for 2019?
So that say yes more goal? Well, I'm going full hog as I was invited by a friend I met just this September to a cottage with her friends. Yes, Lindsay the girl who occasionally has trouble playing nice with others, is going on a weekend adventure to Vermont with 8 other people she has never met in her life. Those damn butterflies are wriggling around as I type this but I'm also so excited to meet new people and visit a new state – Vermont!
In the latter half of January, I'll be embarking on a new country thanks to my birthday present… Mexico! This is the furthest south I've ever travelled in North America and I can't wait to not only soak up the sun in Cozumel but also become a fully certified open water scuba diver!
March will see me heading north for my first winter visit to Sault Ste Marie as I head to my second Pow Wow, Gathering at the Rapids at Algoma University. The trip will have me learning more about the Indigenous Cultures of Canada, including Canada's dark residential school past. It's going to be another emotionally challenging trip, but I'm looking forward to learning and sharing my knowledge with you all.
A few months later, I'll be heading to the 2019 edition of the Women in Travel Summit. This year it's being held in Portland, Maine and while I really don't know much about the state nor the city, I'm excited to experience it and eat my weight in lobster as I go.
The summer is looking pretty quiet right now until September rolls around for TBEX 2019 in Billings, Montana. Known as the Cowboy Capital, I'm looking forward to learning about the history of the state while experiencing in some of its breathtaking landscapes.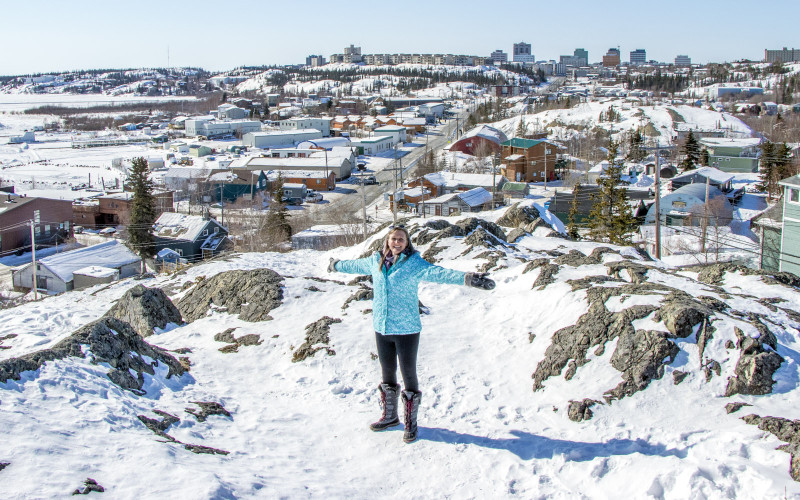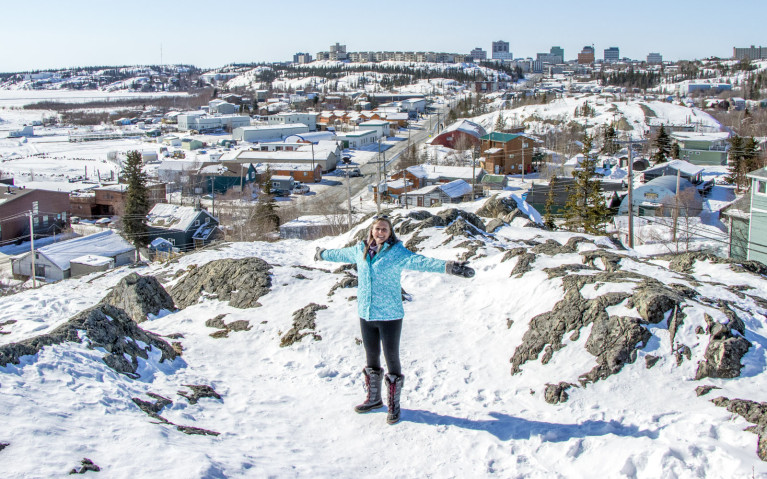 How Is 2019 Shaping Up for You?
We're just a few days in and 2019 is already looking like it will be another busy year! What are you most excited about for 2019? Do you have any new years resolutions or goals? I'd love to hear about them. Let's see how we can help each other for this final year of the decade!
Take a look at my 2017 travel recap or hop ahead to my 2019 travel recap or jump to see what 2020 had in store.